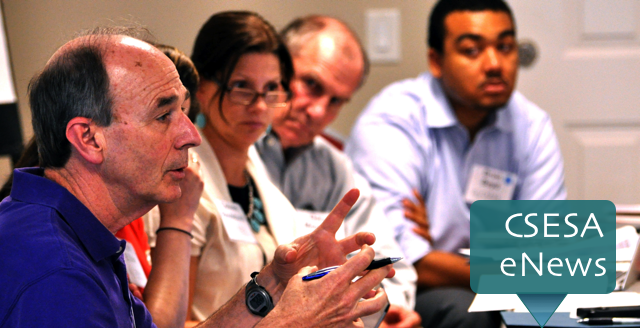 CSESA eNews November 2013
Breaking News
NEW RESOURCE FOR MIDDLE AND HIGH SCHOOL TEACHERS
CSESA launches: Multimedia Manual With Strategies for Secondary School Teacher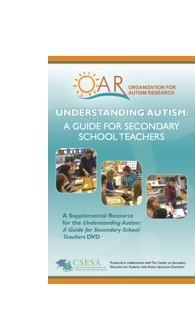 In March, the Center for Disease Control reported sharp increases in the prevalence of children diagnosed with autism spectrum disorder (ASD)—especially for 14-17 year-olds, whose rate has more than doubled over the last 5 years. As the new school year gets underway, scientists at UNC's Frank Porter Graham Child Development Institute (FPG) and the Organization for Autism Research (OAR) have released a multimedia manual that provides strategies for secondary school teachers whose classrooms now include students with ASD.
Check it out (includes links to the video segments). Parents, share this with your child's teachers!
Research Highlights
SIGNIFICANT INCREASE IN SOCIAL INTERACTIONS FOR HIGH SCHOOL STUDENTS WITH ASD THROUGH PEER SOCIAL NETWORKS
Click here for highlights of the early findings from a study by the CSESA team at Vanderbilt University. This includes recommendations for school teams working with students with ASD to support social interaction and building relationships.
FOCUS GROUP FINDINGS
CSESA conducted 28 focus groups around the country regarding high schools and ASD. The discussions with individuals with ASD, family members, educators, administrators, and other community stakeholders were extremely valuable in shaping the components of the CSESA program. One major finding was the need for a better understanding of autism for all school members, not just teachers. More information on the focus groups
Recent Conferences & Events
Six members of the CSESA team hosted a pre-conference event at the Autism Society of America (ASA) Conference in Pittsburgh. We had the opportunity to meet with individuals with ASD, family members, and professionals to hear more about the high school experience and to gather feedback on parts of the CSESA project. Find out more about what the CSESA team learned from the event
On the Horizon
Six high schools across the country are launching CSESA interventions this fall. This set of pilot studies aims to to look at the impact and feasibility of different combinations of the CSESA components. Read a summary about the upcoming study
Is YOUR School Interested in Partnering with CSESA?
CSESA is looking for high schools in or near North Carolina, Wisconsin, and Southern California that are ready to partner with us to build and/or enhance supportive programs for the growing number of adolescents with autism. Click here for more information
CSESA Spotlight
As we start moving into the school year, we will be highlighting CSESA schools, staff, families, and students who have innovative ideas and practices or CSESA success stories. Be on the lookout for CSESA Spotlights on our website and Facebook page.

The Center on Secondary Education for Students with Autism Spectrum Disorder (CSESA) is a research and development project funded by the U.S. Department of Education that focuses on developing, adapting, and studying a comprehensive school-based and community-based education program for high school students on the autism spectrum.
The work reported here was supported by the Institute of Education Sciences, U. S. Department of Education through Grant R324C120006 awarded to UNC-Chapel Hill. The opinions expressed represent those of the authors and do not represent views of the institute or the U. S. Department of Education.